It's getting warmer, so my cooking is getting lazier. There's just no sense standing over a hot stove for 30-60 minutes when it's 80 degrees outside! Stan and I love salads, but if we're having them as our main course for dinner, they've got to be filling. So I hunted around the Interwebs and found 22 of the most delicious filling summery salads out there. I can't wait to start buying locally-grown fruits & veggies to put in them!
1. Salad Sicilia via Delicious Days. In the mix: Radicchio, chicory, arugula, fennel, apple, radishes, carrots, oranges, almonds, and pistachios.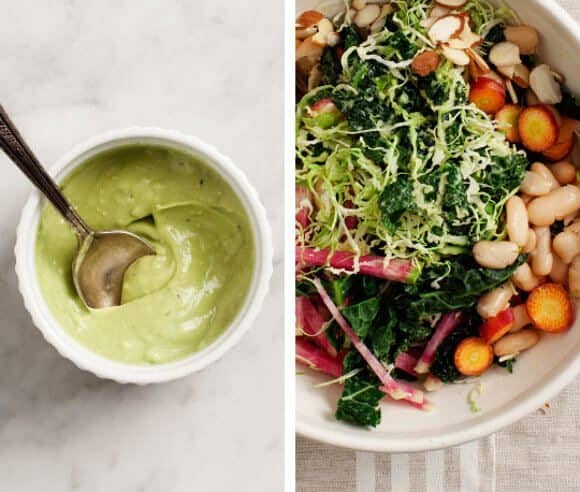 2. Kale Salad with Avocado Tahini Sauce via Love & Lemons. In the mix: kale, tahini, avocado, brussels sprouts, radishes, carrots, white bans, almonds, basil.
3. Seven-Layer Avocado Salad in a Mason Jar via California Avocado. Mason jar salads – what a cool idea! In the mix: avocados, cucumbers, red cabbage, edamame, bell peppers, artichoke hearts, tomatoes, and basil.
4. Honey Walnut Power Salad via Pinch of Yum. In the mix: walnuts, baby spinach, onion, red grapes, edamame, bulgur, honey, bleu cheese.
5. Grilled Peach, Chicken & Arugula Salad via BS in the Kitchen. In the mix: chicken, peaches, arugula, prosciutto, goat cheese, walnuts.
Keep Reading 22 Summery Salads That Will Actually Fill You Up »
0 COMMENTS
SHARE ON