Okay, Valentine's Day is two days away. I, for one, should have decked out the condo in way more hearts and I have yet to make Stan a card. If you're in the same boat: breathe easy. I found a few simple last-minute Valentine DIYs from around the internets to make your heart go pitter-patter. ♥
Who says wreaths are for Christmas? I'd display this DIY floral heart wreath proudly on my door year-round! via a pair & a spare.
And of course, we can't forget the actual Valentines! I love these Tiny Love Notes via a fabulous fete.
These little fortune heart Valentines from Say Yes make me positively swoon!
Both Valentines would fit perfectly in this No-Sew Valentine Mail Bag via Minted. I can't even get over how insanely cute this is — especially if you have kids bringing their own Valentines to school! Or if you're the office cupid! Eek!
Don't forget to set the table for romance with my crazy easy conversation heart candle centerpieces. Check out the tutorial here.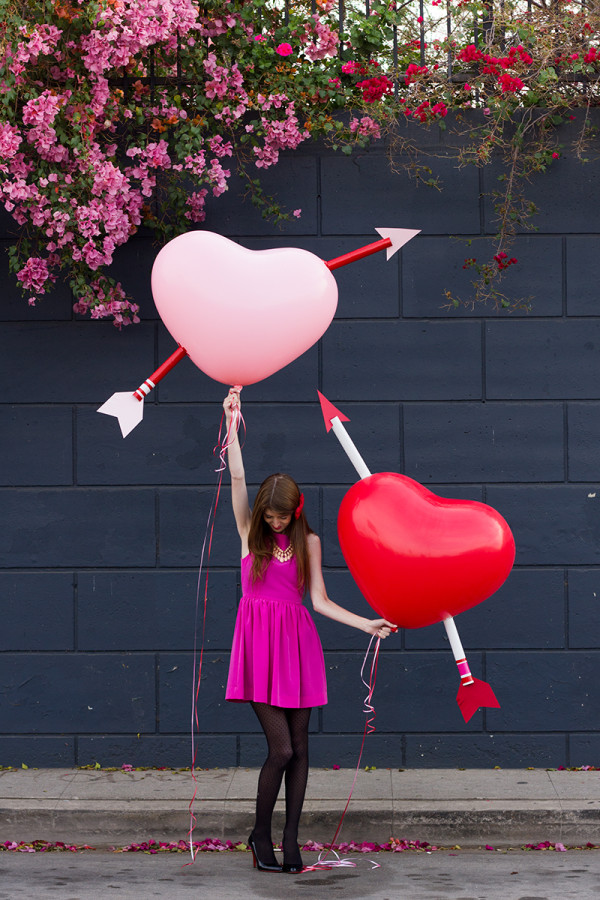 I want to put these cupid's arrow balloons all over my house (and work). via Studio DIY.
I got on the DIY paint chip heart garland a few weeks ago, and have one strung above the living room couch. (Stan says it should stay there year-round ♥) via Lovely Indeed.
For the perfect way to relax without breaking the bank, give each other massages with these homemade massage oils for lovers via Mountain Rose Herbs.
What are your plans for Valentine's Day?  ♥♥♥
Valentine's Day is a week away! Do you have everything you need for partying? Here are my top picks:
1. Party Banner via Urban Outfitters. 2. Valentine's Mix Cupcake Liners via sweet estelle's baking supply. 3. Pink Glitter Origami Heart Cupcake Toppers via Pelemele. 4. Valentine's Day Krazy Straw via Party City. 5. DIY Valentine Party Crowns via mom's best. 6. Plantable Paper Heart Confetti via Paper Sprouts. 7. Cookie Stamp via UncommonGoods.
There is so much snow outside today! All I want to do is cuddle with Stan on the couch and watch romantic movies all day. But I can't do that, so instead I designed some printable quotes from three of my favorites: A Knight's Tale, Love Actually, and Moulin Rouge!. Please note that these are high-res files and may take a few minutes to download, depending on your Internet connection speed.
Jocelyn says this to William. ♥ Download the 11 x 8.5 print here.
Mark has written this on one of his sheets poster board, which he shows to Juliet. Download the 8.5 x 11 print here.
This is said, sung, and shouted a few times during the film, by Toulouse and Christian. The quote is originally attributed to George Alexander Aberle or "eden ahbez" in his song, "Nature Boy," which is covered by David Bowie and Massive Attack on the soundtrack. Download the 8.5 x 11 print here.
After taking down the Yule tree over the weekend, I decided our condo needed Valentine paraphernalia. Plus, I needed a way to reuse the conversation hearts I bought for a work photo shoot (I won't eat them; they remind me of TUMS). Naturally, in my weird & crafty brain, this lead to a DIY candle holder. Let's get to it!
You'll need:
an empty glass jar — mason jar, candle jar
votive candle holder
votive candle
conversation hearts
Step One: Place the candle in the votive and the votive in the middle of the jar.
Step Two: Sprinkle the conversation hearts in the jar, around the votive. Make sure you scoop out any that fall onto the candle.
That's it! Just two steps! It was so easy, I made two:
Pro tip: Use them as centerpieces during your Valentine's Day dinner. ♥