Happy first day of spring!! It doesn't quite feel like it here in Connecticut just yet, but I know it's only a matter of time. I've found a few ways to fill our home with flowers, even if they aren't blooming yet.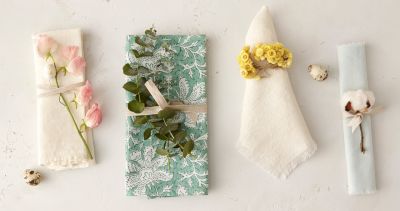 1. Botanical Napkin Rings via Terrain. Brighten up your tablescape with these easy to make floral napkin rings. This tutorial uses real flowers, but you can substitute fake ones if, like me, you live in what has apparently become the arctic zone.
2. Floral Wall Backdrop via I Spy DIY. I love the floral backdrop trend! I know the blooms will only last a few days before they wilt, but aren't they so pretty?
3. DIY kate spade Floral Necklace via Bromeliad. Hmm… pay $300 for a necklace or make it yourself for under $20? ;)
4. Tissue Paper Pom-Poms via Poor & Pretty. These have become a permanent fixture in our kitchen, and I always get compliments when we have people over. My response? "They're so easy to make! Don't ever buy them!" Seriously. Buying them is a rip-off, and you're far too crafty and clever for that.
5. Fresh Flower Love Sign via Sugar & Cloth. I can't get over how lovely this simple little sign is!
6. DIY Pressed Flower iPhone Case via The Etsy Blog. These remind me of the pressed flower bookmarks Suzi and I used to make with our Nana when we were little. :)
7. DIY Fresh Flower Framed Mirror via Paper & Stitch. How perfect would these be as a wedding day photography prop?! If I were putting this in my house, I'd want to use fake flowers because it would be such a shame to see them wilt after all that hard work!
8. Floral Spring Wreath via Dwell Beautiful. Wreaths aren't just for Christmas, you know!
9. Tissue Paper Flower Garland via A Subtle Revelry. Here's another pretty way to string up tissue paper pom-poms.
10. Magnetic Fridge Vases via Woods of Bell Trees. Leftover nail polish bottles + magnets = awesome new fridge decorations.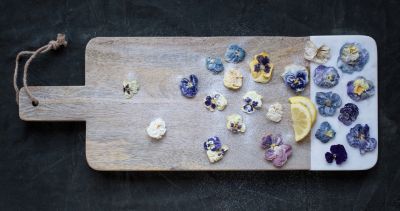 11. Sugared Blooms via Terrain. These would be so pretty on top of homemade cupcakes or pies! Just make sure to use edible, (and pesticide-free) flowers like roses or violas.
12. DIY Spring Flower Crowns via Green Wedding Shoes. Be the queen of spring in these ranunculusly gorgeous floral crowns. (See what I did there?)
13. Fitzgerald Floral Embroidery Kit via For The Makers. I love my monthly For The Makers kits and this one evokes springtime year-round.
14. DIY Floral Letters via Honestly YUM. I would like to X and O Erica of HonestlyWTF for this beautiful floral arrangement tutorial.
15. Giant Fresh Flower Ampersand via Paper & Stitch. I see your floral X and O and I raise you an &!
16. Flowers & Bees Paper Garlands via Highwalls. Here's another great garland, made from wrapping paper!
17. Tulip Pens via Muslin & Merlot. Remember having all sorts of crazy pens in middle school? Heidi of Muslin & Merlot is totally bringing 'em back with her tulip pen tutorial.
18. Giant Wall Flowers via You Are My Fave. Stan might start seeing these bloom all over the house soon…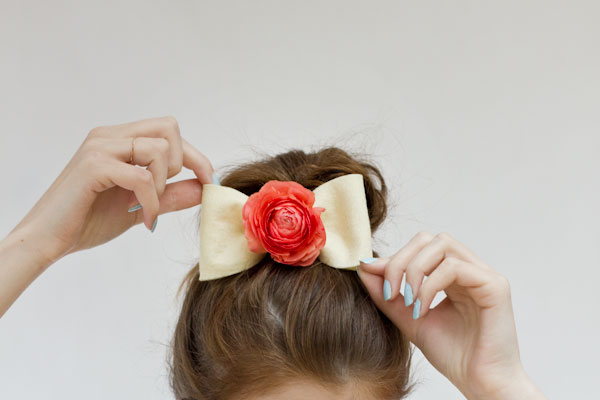 19. Fresh Flower Hair Bows via I Spy DIY. The perfect garden party hair accessory? I think so.
20. Iron-Transfer Floral Duvet Cover via Design*Sponge. I know this tutorial is meant for college living, but I think this duvet cover would look beautiful in any bedroom.
21. Floral Stamp Greeting Card via Deb Duty. I'm not much of a paper crafter, but this handmade greeting card is just too pretty!
22. DIY Floral Necklace via Green Wedding Shoes. Another beautiful (fresh) take on floral necklaces.
23. Paper Cut Inspired Wall Hanging via Poppy Talk. A daily reminder to love what you do — and if you don't, it's time to do what you love.
What are some of your favorite springtime crafts?
0 COMMENTS
SHARE ON